Today I visited Tlaquepaque, an authentic Mexican restaurant located in Old Town Placentia. Based off of the town in the suburbs of Guadalajara, Mexico, the restaurant received its name from when the City of Placentia and the City of Talaquepaque were sister cities. Out of this relationship, Tlaquepaque was founded in 1965 offering a variety of delicious Mexican food. From tacos, to fajitas, to enchiladas, Tlaquepaque makes all of their food in house.
For the first time, I visited Tlaquepaque for lunch. As soon as I entered, I was greeted with a quaint atmosphere, like a pocket of Mexico in the City of Placentia. Inside, the spanish architecture and the vibrant colors recreated the original City of Tlaquepaque. Immediately after we entered, we were enthusiastically greeted and were seated at a table immediately. We first ordered drinks and chips and salsa with guacamole. The chips were cooked to perfection and were still warm as I dipped them into the spicy homemade salsa. After looking over the menu, trying to decide between the multitude of Mexican dishes, I ordered three carnitas street tacos alongside Mexican rice and Refried Beans. Within a couple of minutes the tacos were brought out and set out onto our table.
Even before I dug into the three tacos I was graced with the wonderful aroma of my meal. As I took my first bite, I enjoyed the warm, flavorful carnitas wrapped in a blanket of a corn tortilla. After I devoured my second taco I was filled, but still ate the Mexican rice and some of the refined beans to top off my hunger, feeling satisfied and fulfilled.
Overall, the service at Tlaquepaque was excellent as we were waited on in a timely manner and were served with enthusiasm and joy. The food was excellent and I can not wait to return. If you also want to visit them visit: www.tlaquepaquerestaurant.com.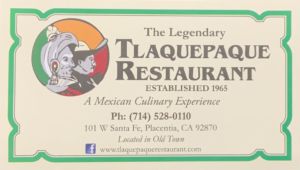 To learn more about Placentia visit: www.baldbrothersteam.com/placentia